April 01, 2019
The 7 Best Teas for Fasting (Get Delicious Energy)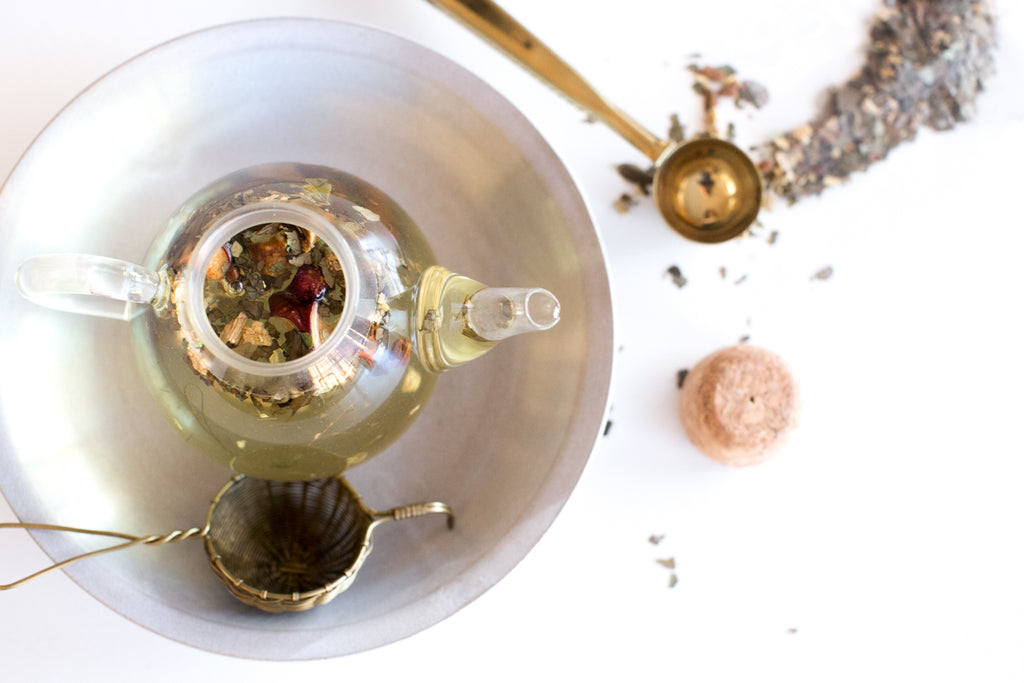 Tea can make your intermittent fasting plan go by much faster. Becoming your companion during your time away from calories, tea can provide your tastebuds and body with nutritious deliciousness! In this guide, we ranked and reviewed the best teas for fasting.
If you want to get some for yourself, we have a collection of the best teas for fasting right here in tea bags, loose leaf, or iced tea pouches.
What is the Best Tea for Fasting?
1. Yaupon Tea
Yaupon is the only naturally caffeinated plant native to North America. It has unique properties that traditional teas lack. One of these benefits is theobromine, which you may know better in association with chocolate. It's the compound that makes you feel better when you eat it. It helps elevate your mood and boost your focus and attention. When combined with the caffeine in yaupon, there is a synergistic effect on these benefits, reducing those hangry feelings that come with fasting.
Benefits:
Theobromine acts as a muscle relaxer

to calm those sounds of hunger.
Benefits for your immune system

from the antioxidants that remove free radicals in your body.
Gives the gentle boost of energy

from caffeine tempered by an interaction with polyphenols that can reduce the negative effects on mood.
Side Effects:
May cause sleeplessness due to caffeine if large amounts of yaupon are consumed all at once.
Try our CatSpring Yaupon tea to make fasting more enjoyable. It's organic, non-gmo, kosher, sustainably grown, and naturally caffeinated.
2. Ginger Tea
Ginger tea is a great companion for your fasting period. Whether helping stave off hunger, soothe an upset stomach, or aiding the body in breaking down food, you can never go wrong with adding ginger to your tea routine. As a rule of thumb, one cup of ginger tea contains about 250 milligrams of ginger so aim to drink two to four cups of this tea to alleviate feelings of nausea.
Benefits:
Makes you feel fuller longer

by curbing your appetite.

Made using fresh ginger root

which packs a punch when it comes to providing flavor to an often flavorless fast.

Support a healthy immune system

with the powerful antioxidants to protect you while you fast.
Side Effects:
Makes heartburn worse

because it relaxes the muscle that prevents stomach bile from entering the esophagus.
3. Green Tea
Full of antioxidants and catchenis which help promote weight loss, Green tea is a great choice while fasting. Green tea has not undergone the oxidation process that creates black tea and oolong teas. It tends to have a lighter flavor profile and appearance due to the lack of oxidation. Usually, green tea steeps in hot water for a shorter period of time than black teas as steeping too long draws out tannins that can make the brew bitter. A normal cup typically has about 25mg of caffeine, similar to the levels found in yaupon.
Benefits:
Protect your cells

with the polyphenols and catechins from green tea that reduce free radicals that damage your cells.

Boost your energy levels 

while fasting with a little caffeine.
With a variety of flavors

green tea can help you spice up your fasting.
Side Effects:
Possible sleeplessness if you consume too much caffeine later in the day.
4. Black Tea
Basically Green teas' cousin, Black tea is another great option while fasting. With about half as much caffeine as a cup of coffee, this flavorful tea can help power you through those days or hours without food which normally provides us with the energy we need to get through the day. Black tea also has an amino acid that slows the release of caffeine helping you feel full of energy longer.
Benefits:
Full of flavor

providing you with tastes of deliciousness all while still consuming no calories
Get longer lasting energy thanks to L-theanine

 which is known to slow the release of caffeine and provide energy longer.
Antioxidants help remove free radicals

keeping you and your cells healthy and happy.
Side Effects:
Possible sleeplessness if you consume too much caffeine later in the day.
5. Rooibos Tea
Originating in Africa and now popular worldwide, it's a caffeine-free alternative to traditional black tea and even similarly often undergoes oxidation though unlike black tea it is also often fermented. It has an earthy flavor that can be similar to yerba mate. Your brew is less likely to be bitter too because rooibos has less tannins than other teas. If you are fasting at night, Rooibos tea is a great caffeine free option for evenings as this herbal tea it is packed with flavors that taste like dessert themselves.
Benefits:
Aides in metabolizing fat faster

helping those dessert pounds stay away.
Caffeine free

for relaxing evenings to unwind.
Support heart health

as some studies show that rooibos may inhibit an enzyme that increases blood pressure.
Side Effects:
Possible liver damage if you consuming too much rooibos.
6. Peppermint Tea
Peppermint tea has a signature minty flavor due to its easy brewing using mint leaves. This menthol based flavor can help soothe your intestines and decrease bloating while also freshening your breath instantly. A refreshing glass that has a cooling effect, this is a yummy option for those looking to compliment their time of fasting. *Pro tip: you can also add peppermint oil to other beverages*
Benefits:
A natural muscle relaxant

to soothe nerves and relieve potential headaches.

Caffeine free

and coming in oil or bag form, peppermint is a

versatile

option for however you'd like to enjoy it.
Freshens breath

to help you feel satiated.
Side Effects:
Can worsen acid reflux by relaxing the muscles around the stomach sphincter.
7. Hibiscus Tea
Another great caffeine free option is Hiscus tea! Flowery and full of antioxidants, this tea helps detox your body while also refreshing your tastebuds. The Hibiscus flower has been used for centuries for its vitality benefits and it can be used by you today to achieve your fasting goals. Oftentimes the brew has a taste profile similar to cranberries, with a slight sweetness and a bit of bitterness, and can be enjoyed hot or cold. Some animal studies have shown that hibiscus tea can increase antioxidant activity, though these results are still being researched in humans.
Benefits:
Fights free radicals

helping promote general well being

Boost your immune system and remove toxins with the powerful antioxidants including vitamin C and beta-carotene.
Brew with ease

and complement its sweet undertones with a favorite sweetener such as honey.
Side Effects:
May interact with medicines like acetaminophen

if consumed in very large quantities.
The Bottom Line
Owing to their amazing healthy-boosting properties, these are some of the best teas for an fasting. They can help soothe feelings of hunger while fasting and provide added health benefits while doing so.
If you want to get our best tasting tea for fasting, check out our organic, naturally caffeinated CatSpring Yaupon tea here.
Medical Disclaimer: This article is for informative purposes only and shouldn't be taken as medical advice. If you have serious health-related issues you should reach out to a medical professional. While we have studied the scientific research available, this is not intended to diagnose, treat, cure, or prevent any disease.