April 01, 2019
The 5 Best Tea Tumblers (Tea on the Go!)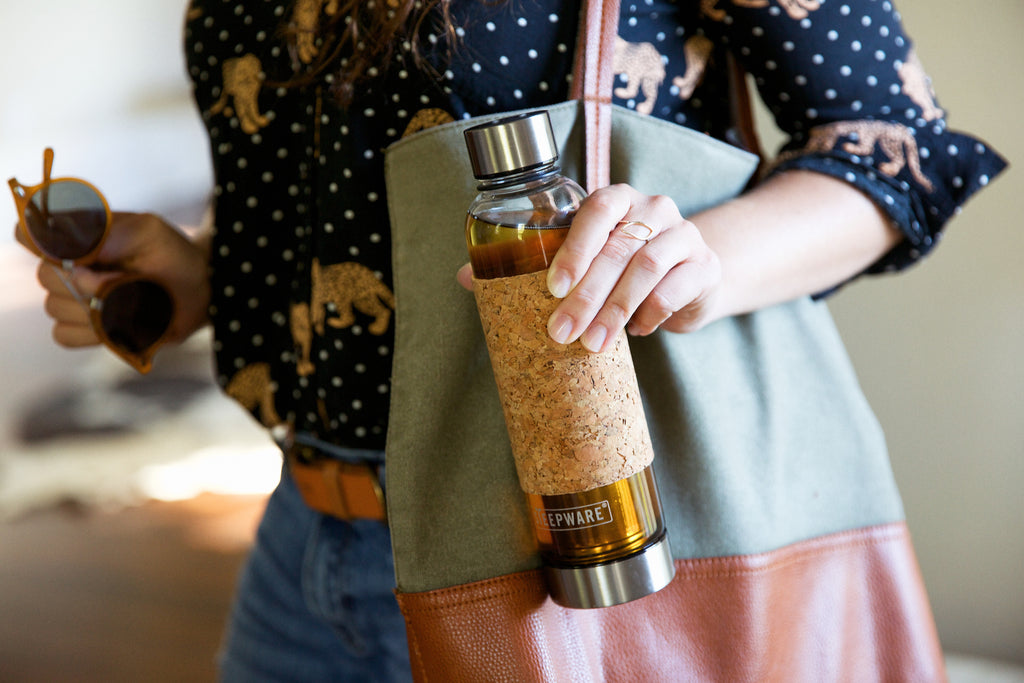 Are you looking for a way to enjoy your favorite tea without having to carry around a bulky cup? Then these tumblers are perfect for any tea lovers. They come in various sizes and shapes, so you can choose the one that fits your lifestyle. In this guide, we ranked and reviewed the best tea tumblers. 
If you want to get some delicious tea for your tumbler, we have a collection of the best teas for using in tumblers right here in tea bags or loose leaf.
What is the Best Tea Tumbler?
A perfect union of form and function, this glass tea tumbler allows you to enjoy yaupon your way on the go. The heat resistant glass bottle keeps your brew safe from any contamination and lets you brew with hot water if you prefer. And the comfortable cork accent keep your hand cool. Simply fill the bottom mesh infuser with your favorite yaupon then fill the bottle with water and you're on your way!
Benefits:
Easy to use

with an intuitive design that allows you to use loose leaf or a tea bag to brew your favorite yaupon (or tea).

Hot or cold brew

with a design that protects your hand and brew when steeping with hot water.

A beautiful design

that you can easily carry from the park into your next business meeting without missing a beat.
Try our CatSpring Yaupon tea to complement this tumbler. It's organic, non-gmo, kosher, sustainably grown, and naturally caffeinated.
2. Double-Walled, Vacuum-Sealed Stainless Steel Infuser Tumbler
A stainless steel tumbler design keeps your drinks hot or cold, preserving the internal temperature no matter what your day may bring. Depending on the type of lid you get, it can also be leakproof and may even come with a built-in infuser that you can fill with your favorite brew. It's sturdy design is great to journey through life's up and downs without breaking.
Benefits:
Comfortable to carry

with a design that fits in your hand, your car cup holder, or a bag pocket to go wherever you go.

Keeps your drink hot or cold

with a double-walled design that maintains the internal temperature and keeps your brew at the ideal temperature.

Tough design that withstands damage

and easy to take on any adventure your day brings.
3. Plastic Tumbler with Infuser
Bisphenol A (BPA) has been linked to cancer, hormone disruption, and other health issues. While some plastics are safe to use, others have been shown to leach harmful chemicals into your food and drinks. So seek out BPA-free tumblers that carry your brew without ruining it. Coming in a variety of bright, brilliant colors, plastic tumblers can have a multitude of designs that are perfect for any mood and expressing yourself without saying a word as you sip your tea.
Benefits:
Bright colors and design

make your drink stand out no matter where you are and express a part of who you are.

Great for cold beverages,

though some double-walled varieties can also carry hot drinks, these are specially suited for cooler drinks.

Damage resistant

as they can handle and absorb drops and falls easier than other materials and still keep going strong.
4. Built-In Strainer Tumbler
Some tea tumblers come with a strainer built in at the top of the bottle to allow your loose leaf tea to float in the water as it steeps. This can help certain varieties of tea steep better than smaller infusers that may cramp the leaves. If you like to sip over a long time, it may be wise to find a variety of this that allows you to remove the leaves easily so as not to oversteep.
Benefits:
Greater space for loose tea leaves

to mix and infuse the water with the tea flavor and benefits.

Multiple steeps are easy

as the leaves remains in the bottle and naturally mix with any new water added in.

Mixing blends is simple

with more space to add tea leaves, you can mix and match some of your favorite flavor profiles to create a unique brew.
5. Loose Leaf Tea Infuser Travel Mug
Sometimes we're looking for that perfect cup for traveling and, being from Texas, long road trips are a familiar activity. A great travel tumbler for these are smaller and double walled that can fit easily in your car cup holder and maintain a good temperature for your brew. A tight-fitting, easy to open and close lid is also essential to minimize difficulty in sipping as you cruise down the road.
Benefits:
Smaller to fit wherever

and make packing easy while not carrying too much liquid.

Easy to open and close

to make it simple to sip on your favorite brew as you're driving along and keep hydrated while traveling.

Maintains temperature

whether hot or cold drinks so that your drink is the perfect refresher for your journey.
The Bottom Line
Whether you prefer black, green, white, herbal, or flavored teas, there's a tumbler out there for you. Whether you're looking for a travel mug or a stylish glass container, we've got you covered. Find a perfect tumbler for you and any other tea drinkers in your life.
If you want to get our best tasting tea for using with your tumbler, check out our organic, naturally caffeinated CatSpring Yaupon tea here.