March 30, 2021
A Tea Titan's Journey: 7 Keys to Success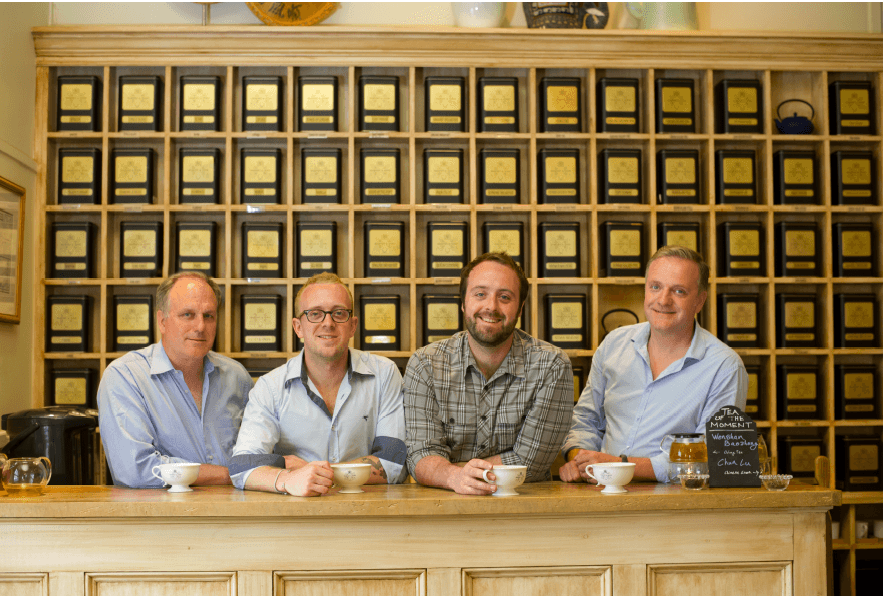 Harney & Sons, the titan of tea, was one of the earliest supporters of CatSpring Yaupon. In the early days, Paul Harney toured our first facility in CatSpring, TX. Our yaupon is now served in their SoHo tea shop, and featured in the "American Buzz" ready-to-drink line.
In the ultimate Microsoft- and Amazon-style start-up story, Harney & Sons originated in John Harney's basement in 1983. Today, it has grown into a global tea distribution company with over 200 employees and a 90,000 square foot warehouse in Millerton, New York.  We sat down with John's grandson, Emeric, who is just as committed to carrying on the family vision of making tea an everyday luxury. Here's what he had to say about succeeding in business, without sacrificing your core values:
1. FIND YOUR PASSION
I'm a 3rd generation member of the family, and worked in the company as young as 3 years of age, peeling labels off rolls and handing them off to be applied. As a teenager, I worked weekends in our retail shop and developed my first handful of blends before finishing high school. My college years led me on a whirlwind of locales and universities but I eventually ended up traveling with my father Michael Harney to do photography on one of his sourcing trips. That's when I fell in love with tea as an adult, in a way that was my own and not from my upbringing. I was able to experience the passion tea-makers had for tea and the irreplaceable connection of sharing a cup of tea with another human. I began working with the company again in a long-term capacity, focusing on opening our store in nearby New York City. A few years later, I started to handle our packaging design, and now today I focus on our e-commerce and marketing.
2. INNOVATE AND STAY FRESH
My grandfather, John Harney, was on a mission to make tea an everyday luxury. When he started Harney & Sons in 1983, he only offered 6 teas. My dad, who joined the company in 1988, had a flair for exquisite flavors and beverages (he had worked in Cognac, France and in a wine cave in Paris, France). He was the first to really seek out new blends and teas from the source. I follow in my father's footsteps, with a lot less experience but perhaps even more flair, in sourcing teas from regions not always known for the best quality, and for flavors that will whet the appetites of our customers. The biggest lesson I think I've learned from the many different blends we offer is: it's impossible to safely discontinue a blend! Each one has it's dedicated fan base, which is great. There's a cup of tea for just about everyone.
3. REMAIN TRUE TO YOUR BRAND
One of the biggest challenges we've encountered over the years is the competing marketspace of tea. Each year new tea companies join the space. Some stay and some burn out quick. We've been in business for 35+ years because of our tradition to tea and family, the desire to remain close to our customers, and the desire to provide them great quality and affordable tea while educating them. The other challenge is the dilution of our brand. The way the world of commerce has developed, we've joined in partnerships that made our brand more exposed to the masses. For some companies, this can result in a reduction of quality or closeness to customers, but I'm glad to say that's not the case for us. There are so many ways to expand our brand while remaining true to it. We've seen a great response to things like nitro tea, cooking with tea and even infusing cocktails with tea.
4. DON'T GO IT ALONE
We've made some pivotal partnerships with companies that have expanded our exposure to folks all over the country, and even the world. A couple of these partnerships exist with companies like Barnes & Nobles and Amazon. However, I think we've made great strides in our ways of getting in front of consumers, through our website and social channels. The only way that our company has really changed to make accommodations for this type of growth is that we're certainly making a lot more tea than we were in the '80s. Back then, we were blending 25 to 50 pounds of tea at a time in my grandfather's basement. These days we're blending upwards of 800 pounds at a time in our 90,000 square foot factory. All the while, our commitment to quality tea at an affordable price stays the same.
5. CULTIVATE PURPOSE
We're members of 1% for the Planet, an organization we've worked with since 2006. Joining 1% for the Planet means we can donate one percent of our total sales to the environmental organizations of our choice. We enjoy this because we can focus on social initiatives close to us (like the Appalachian Trail) as well as ones across the world (Rainforest Trust). In addition, we continue to challenge the manufacturers of our products and packaging to innovate and put stewardship at the forefront. We recently worked with a company, TC Transcontinental to create one of the very first to market recyclable, airtight, opaque ziplock bags for use when we sell teas by the ounce. In addition, we are continually on the search for biodegradable sachets and packaging to reduce our impact on the environment. Supporting our local community, parks and other services is an easy choice because it impacts the lives of our families and our employees. When we bring up the world around us, it has a broadening impact of inspiring others to do the same.
6. IT TAKES A VILLAGE
My leadership style is molded a lot after the ways in which I've observed my family. My dad taught me to be a team player, and that a leader should be just as capable of doing everything that he asks of other people to do for him. I lead by example and am a problem solver. While it's important to understand mistakes so that we can grow and hopefully not repeat them, there is no reason to harp on them or focus on them at great length. I hope to inspire those around me to help run our company as if they were family members themselves, and to create long lasting relationships with our vendors and customers and coworkers.
7. BRING OTHERS ALONG ON THE ADVENTURE
I'm most excited about my trip to Japan with my husband, Robert, in the spring. We're hosting a group of 14 individuals on an 11 day guided tea, food, and culture tour throughout a number of cities in Japan with the travel company Onward Travel Co. In addition to that, we will see our Japanese distributor of our teas there, make some appearances, and meet with customers, as well as taste teas freshly made from our Japanese tea manufacturers. On our return, we'll stop to visit family outside of Los Angeles, and I'll be taking part in my first west coast obstacle course race. There are many great things to come, and the horizons of tea keep expanding!